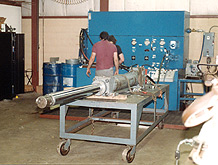 7500 square foot shop
Complete machine shop
24 inch Hone MIG & TIG welding.
100 H.P. test stand
We sell and repair:
Cylinders, pumps, motors, hoses, valves, PTO'S       Compactors bailers hydrostatic units
OTC, Power Team, Vickers, Hydroline, Parker,         Racine, Rexroth, Bosch, Cat, Miller, Gresen, J.S. Barnes,         Charlynn, and all other makes.

Servo & Proportional         Valves – Hydraulic Brakes – Accumulators

Custom cylinder manufacturing to your specifications

All types of seals, packing, and fittings in inventory

Custom made hoses of all types.