Authorized DEMAG Repair since 1988 Motors & Gear Boxes In Stock
Demag Industrial was one of the earliest German industrial manufacturers which has supplied European manufacturers since 1840.
World-renowned for Demag Cranes, hoists, and process automation such as plastic extrusion, chemical processing, and industrial stamping.
We are a DEMAG Certified Motor Repair Center.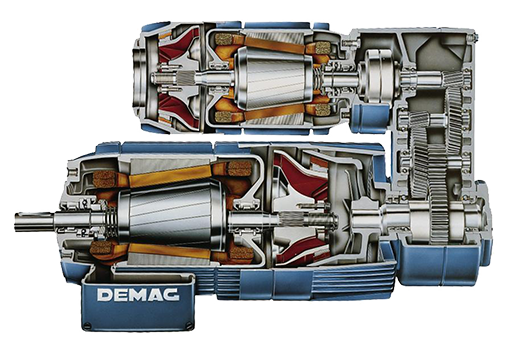 We have your
hard-to-find
modules!
Mannesmann AG based in Düsseldorf, Germany acquired Demag in 1973, and in 1992 was consolidated under the Demag Mannesmann material Handling AG based in Wetter, Germany.
Cleveland Ohio is home to the North American operations of Demag Cranes & Components which supply all of the state-side requirements for parts, and components for overhead cranes, hoists, and material handling. The company's product philosophy is based on a proven, modular system approach. Modular components, which are compatible with one another, are combined in various ways to meet individual requirements and to form material handling equipment and machinery that function at the highest levels of efficiency.
Demag modular design systems typically are comprised of helical gear motors, offset gear motors, and right-angle gear motors. The Demag component system allows for various brake designs such as basic cylindrical-rotor motors, conical-rotor brake motors, and cylindrical-rotor brake motors.
The Demag KB conical-rotor brake motor provides you with a brake motor that utilizes a unique operating principle: The brake is not separately controlled, but firmly connected to the rotor, i.e. integrated. This means that motor start-up and brake release as well as motor switch-off and brake application are each synchronized.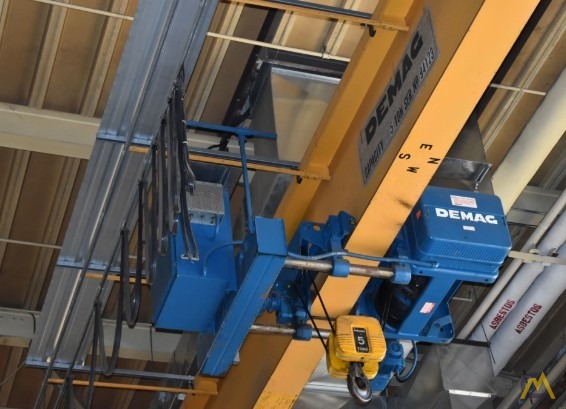 The Demag KB conical-rotor brake motor features a remarkably simple, robust, and reliable brake system. It is an outstanding solution wherever demanding requirements have to be met by the brake.
Benefits
Extremely high allowable starts/stops per hour
High braking energy
Unaffected by a temporary overload
Long brake lining service life, since the heat generated by the brake, is immediately dissipated
Short overall length, since the brake disc simultaneously forms the motor fan
No separate control or additional switching elements are required since the brake is automatically applied and released
No additional motor temperature rise, since a brake coil is not necessary
Demag Z cylindrical-rotor motors are designed for optimum integration with Demag gearboxes and their design configurations to suit your needs.
The output ratings of the 2, 4, 6, and 8-pole motors are graded according to the IEC classification. The motors are also available as two-speed units or with an integrated flywheel for particularly smooth motions.
The housings of motor frame size Z63 to Z132 are of high-quality aluminum alloy, guaranteeing high stability for a low deadweight. Motor frame sizes Z160 to Z180 feature a grey cast iron housing.
Why choose American Electric Motors?
Our large inventory of motors, gearboxes, and modules as well as our experienced technicians makes us the first stop for DEMAG repair services.
Customer Reviews
We work hard to earn your business.
Get A Quote
Please use our sales and service form for the fastest service.